Archive for June, 2015
Blackberry time has arrived at the farm!  So excited to make some yummy goodies this week out of those delicious Kotata Berries.
Kotata Berries are one of our favorites and are a Marion Berry x Logan Berry. Has large, very flavorful fruit. Holds better than Marion Berries & are well suited for fresh eating, freezing, baking & jam.
The next event we have coming up on the farm is Happy Hour!
The storage tip of the week is for using Beet Greens and Carrot Tops!  Up until today, I thought you just had to toss those carrot tops!  I'll be incorporating them into my sauteed greens and smoothies from now on!
Here's a quote from a great blog I just found on storing these two items:
When I was a kid, my mother would buy carrots with the long bunch of greens attached. She would chop them off and give them to our parakeets and finches who loved to eat them. Today we know that the tops of vegetables are not just for the birds. A few summers ago, I had an abundance of radishes and used the greens in several recipes. The green tops of many veggies are edible and yummy. Just like the vegetables they come from, the green tops have distinctive flavors and textures. There is a new movement in the food world of root to stem and root to stalk cooking. The leaves, greens, stems and stalks we tend to throw away are completely edible and instead of wasting them, we should all be using them to cook amazing and unique dishes. So the next time you buy carrots and beets, don't throw the greens away. Here are some ways to use them instead of tossing them.

For the rest of the storage tips visit her blog at: http://www.onegreenplanet.org/vegan-food/beet-and-carrot-greens-how-to-use-them-instead-of-toss-them/ 
This week's recipes I found include using Beets, Carrots, Carrot Tops, & Kale.
First up:
Carrot & Beet Entree
4 medium beets with greens
Sea salt & Ground black pepper
1 1/2 pounds carrots with greens
6 T extra-virgin olive oil
2 tsp smoked paprika
1 tsp ground cumin
1 tsp ground coriander
1 small shallot & 1 small garlic clove
1 T lemon juice
1/4 cup crumbled blue cheese
1/4 cup chopped roasted salted almonds
For the rest of this great recipe visit: http://www.takepart.com/article/2012/08/23/cheap-sustainable-delicious-carrots-and-beets-entree
And next:
Braised Kale
1/3 cup extra-virgin olive oil
4 garlic cloves
1 1/2 cups chicken stock
1 bunch of kale
Salt and freshly ground pepper
For the rest of this recipe visit: http://www.foodandwine.com/recipes/braised-kale
And last but not least:
Carrot Top Smoothies
2 handfuls carrot greens
1 cup carrots – chopped
1 apple – cored, chopped
1/2 inch ginger – peeled
1 tbsp sunflower seeds
1 cup water
1/2 cup ice cubes
For the rest of this great recipe and many more smoothie recipes visit:  https://greenblender.com/smoothies/recipes/carrot-greens-apple
Until Next week!
Farmer Stacy 🙂
It's crazy to think that Strawberry Season is over!  What an early year!  We have started picking our Blackberries and for the first time ever we will be offering U-picks along with our festival this weekend!
This week's Storage Tip is for Freezing Snap Peas without blanching them!
Here are the quick & easy steps to freeze snap or snow peas without blanching:
Strip pods of the tops and strings, as usual. Clean if needed, and dry well. You do NOT need to clean them unless you don't know where they came from or who handled them. Mine grow organically and never touch the ground, so I don't bother. IF you do wash, plan to air dry or hand dry well, as water will cause the dreaded ice crystals to form faster.
Slice pods into 1 to 2-inch pieces. You could leave them whole, but I find cutting into smaller pieces helps detract from the inevitable changes that occur in the freezer to the texture – when they're smaller, it's less noticeable.
Add to a freezer baggie, remove air, label, and freeze.
More tips can be found at: http://anoregoncottage.com/how-to-freeze-snap-peas-without-blanching/
The recipes this week are new ones that I can't wait to try out!!
Beet, Goat Cheese & Honey Tarts
2 red beets
2 T Olive Oil
1 sheet puff pastry, thawed
1 egg + 1 teaspoon water, beaten
6 ounces goat cheese
1/4 teaspoon salt
1/4 teaspoon pepper
3 tablespoons honey
fresh basil leaves for garnish
For the rest of this recipe and some others visit: http://www.howsweeteats.com/2014/08/roasted-beet-goat-cheese-and-honey-drizzled-tarts/
Pork & Snap Pea Kebabs
1/4 cup hoisin sauce
1 T soy sauce
1 T grated peeled fresh ginger
1 T rice vinegar
1 pork tenderloin (about 3/4 pound)
5 scallions
1/2 pound snap peas
For the rest of this great recipe and many others visit: http://www.marthastewart.com/355223/pork-and-snap-pea-kebabs-ginger-hoisin-glaze#Pea%20Recipes|/275414/pea-recipes/@center/1009726/spring-produce|355223
And last but not least, a yummy salad recipe!
Peas & Carrots Spring Salad
1 sack salad greens
20 leaves fresh basil,
2 cups shredded carrots
1 cup fresh shell peas
1 shallot
3 T white wine vinegar
1/3 cup olive oil
Salt and pepper
Ham Steaks
For the rest of this great recipe visit: http://www.foodnetwork.com/recipes/rachael-ray/peas-and-carrots-spring-salad-recipe.html
And that's it for this week!  Eat up!  There's plenty of new goodies coming out of the garden!!!
Until next week,
Farmer Stacy 🙂
This week coming out of the garden we have some great fresh produce!  Including Strawberries, Snow Peas, Sugar Snap Peas, Shell Peas, Spinach, Salad Greens, & Sweet Baby Jane Carrots.
The storage tip of the week is for keeping Strawberries Fresh:
 HOW TO KEEP STRAWBERRIES FRESH:
Get out a glass or plastic storage container that has an airtight lid. I prefer to use glass containers, but if you don't have glass a plastic one will work. Line the bottom of the container with a paper towel.  You may have to tear it in half like I did to fit the container.  The paper towel helps to absorb any moisture.  

Lay some strawberries on the paper towel.  Be sure not to overcrowd them.
Lay another paper towel over the first batch of strawberries, and then place more strawberries on top. Do this only if your container is large enough, you don't want to smash the strawberries when you put the lid on.
Seal the container and then put it into the refrigerator. This quick tip has really helped to keep my strawberries fresher longer. If you love strawberries, then you will love this easy and refreshing strawberry, mango and banana smoothie. I make these up daily for the kids this time of year.  It's their favorite after school snack.  I just pair it with a batch of our favorite popcorn.
Tips Courtesy of: http://www.marinmamacooks.com/2013/05/how-to-keep-strawberries-fresh/
Here's a few recipes to help guide your way through all of the goodies from the garden!
Three Pea Salad
1 tablespoon minced shallot
1 tablespoon sherry vinegar
1 tablespoon sour cream or crème fraîche
1/4 cup extra-virgin olive oil
Salt and freshly ground pepper
1/2 pound sugar snap peas
1/2 pound snow peas, halved crosswise
2 cups Shell Peas – Shelled
Recipe & Photo Courtesy: For the instructions visit:
http://www.foodandwine.com/recipes/three-pea-salad
Quinoa Spinach Bake
¼ cup sesame seeds
1 lb.  spinach
2 tsp. extra-virgin olive oil
1 shallot, diced
2 cloves garlic, peeled and minced
1 Tbsp. dried thyme
¼ tsp. chili powder
2 cups cooked quinoa (about 1 cup uncooked quinoa)
1 cup Greek plain yogurt
2 large eggs, lightly beaten
¾ tsp. sea salt
½ tsp. freshly ground white pepper
Recipe & Photo Courtesy, For the instructions visit:: http://thehealthyapple.com/
Strawberry Spinach Salad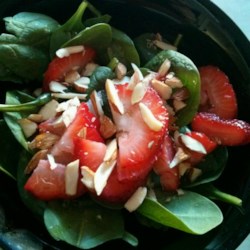 1/4 tsp Worcestershire sauce
1T minced onion
Fresh spinach
1 quart strawberries
1/4 c almonds
2T sesame seeds
1T poppy seeds
1/2 c white sugar
1/2 c olive oil
1/4 c distilled white vinegar
1/4 tsp paprika
For the rest of the recipe visit:  http://allrecipes.com/recipe/strawberry-spinach-salad-i/
It has been such an early year for all of our produce, in fact as of last Saturday we had been picking our Strawberries for one month!  Everything is going to be early, which is good to keep in mind.
Until Next week!
Farmer Stacy 🙂