Archive for September, 2014
Fall has officially arrived with the first rain!  Time to break out those pants and boots!
We still have beer on tap available for Growler Fills:
Burnside Brewing Oatmeal Pale Ale
Ninkasi Total Domination IPA
Hop Valley Vanilla Infused Porter
Portland Cider Company Kinda Dry Cider
This week's storage tips are for: Cilantro
How to store cilantro
As soon as you arrive home with fresh cilantro, place the stems (with roots intact if attached) in a glass of water and cover the the top loosely with a plastic bag. Refrigerate. Snip off leaves as you need them and re-cover. The water should be changed every 2 to 3 days. Do not wash the herb until you are ready to use it since excess moisture will turn the leaves to green slime during storage. Depending on its treatment at the market, it should last up to a week in the refrigerator.
Freeze cilantro
To freeze, place a small amount dry cilantro leaves in a single layer on a cookie sheet. When frozen, gather into a zip-top bag, returning to the freezer immediately. Use within 6 months. Do not thaw before using.
Dried Cilantro
Cilantro may also be dried in the same manner as parsley, however, its flavor will be greatly diminished. Drying is neither recommended nor worth your time. Dried cilantro is available in most markets, should you have the need.
For more great storage tips visit: http://homecooking.about.com/od/foodstorage/a/cilantrostorage.htm
I found some yummy recipes for the Fall cool-down this week!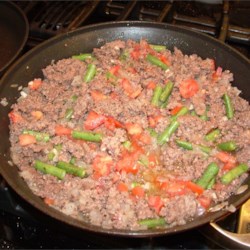 Shepherd's Pie
1 tablespoon vegetable oil
1 onion, chopped
1 pound lean ground beef
1 teaspoon dried basil
1 clove garlic, minced
1 cup green beans
1 cup tomatoes, diced
2 potatoes, cooked and mashed
1 egg, beaten
1/2 cup water
For the rest of this recipe and many more visit:  http://allrecipes.com/recipe/ground-beef-shepherds-pie/
Stuffed Squash
1 acorn squash
1 lb ground beef
1 onion
1 apple
6 slices of bacon
1 T fresh rosemary
2 tsp dried thyme
2 tsp fennel seeds
1 tsp ground sage
1 tsp black pepper
1/2 tsp cinnamon
1/2 tsp sea salt
1/4 tsp nutmeg
For the rest of this great recipe visit: http://stupideasypaleo.com/2012/10/07/stuffed-acorn-squash/
And lastly:
Apple Dumplings
1-1/2 cups sugar
2 cups water
4 T butter
1/2 tsp ground cinnamon
Pastry double-crust pie
6 apples
For the rest of this recipe and many others visit: http://www.tasteofhome.com/recipes/easy-apple-dumplings
Until Next week 🙂
Farmer Stacy